Luanne Sims and Karen Randall are the co-winners of the West Chester Story Slam's 4th Annual Grand Slam! They share top honors of "Best Storyteller of West Chester, after competing to a sold out audience at the Chester County Historical Society. These two women will have their names added to the Storytellers Cup, joining past winners Patrick Carmody, Eli Silberman, and Robert Williams. We heard many excellent stories on the theme of "Changes." Thanks to all our storytellers! Also thank you to our judges, Mark Mitchell, Kelly Simmons, and John Dixon. Finally, a big thanks to everyone who came out to cheer on the storytellers.
Here is a Slide Show with photos supplied by Photos by David James. To see all David's photos, check out his gallery by clicking David James Photography.
Below the photo gallery you can find the two winning stories. To watch all the stories, click HERE.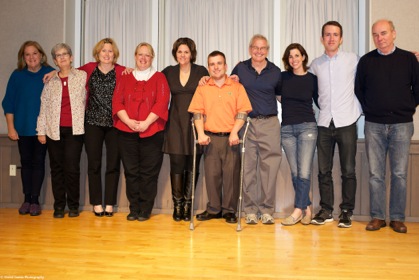 http://www.youtube.com/watch?v=4toSitX1EOU
http://www.youtube.com/watch?v=RAy41SIuEE8